Explorer Warrior MJ-EW UFO Solar Street Light
Model: MJ-EW800 / MJ-EW1200
Residential
Power: 800W/1200W
16Million RGB & Musical rhythm
POLY Solar panel
RGB5054 LED beads
LiFePO4 Lithium battery
Die-casting aluminum housing
IP65 Water-proof
Remote contol & APP control
CE,ROHS Certified
Explorer Warrior MJ-EW Series Solar Cell UFO Street Light
MJ-EW Series UFO Solar Street Light is newly patented design, the design concept incorporates unique UFO elements. Bring a brand-new product visual impact and unique decoration to customer.
The outdoor UFO solar street light is easy to install, it does not require additional wiring. Much saving installation and maintenance costs, 0 electricity bills. Die-casting aluminum housing with IP65 waterproof grade, rain-proof, dustproof.
Solar UFO street light use high conversion efficiency polycrystalline silicon solar panel, built-in large capacity LiFePO4 lithium battery, can be fully charged in 6-8 hours.
3Kinds Color temperaturer are integrated in one light, include cold white, warm white and 16million RGB colors. The luminaire color and lighting can be rhythmic with the melody of the music, perfect for Christmas and holiday decorations.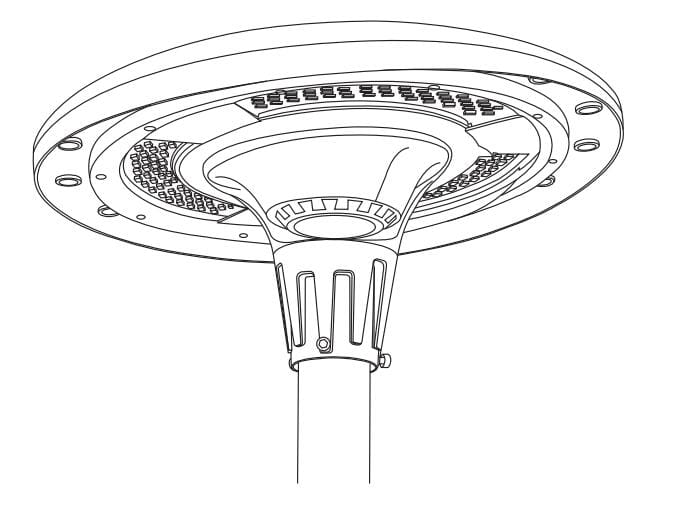 Technical Data of MJ-EW UFO Solar Street Light
 Model
MJ-EW800
MJ-EW1200
Solar panel
30W/4V
40W/4V
Rated power
20W
30W
Lumens
1950LM
2600LM
LiFePO4 battery
32AH/3.2V
48AH/3.2V
Install height
3-5M
4-6M
Spacing
9-15M
12-18M
Pole diameter
76mm
Color temp.
3500K& 6500K& RGB (3 in 1)
Work temp.
-20℃ ~ +60℃ (When the temperature is below -10℃, derating use )
Water proof
IP65
Charge time
6-8H
Lighting time
Light on at dusk, Light off at dawn auto. 12 hours lighting time per day, 2 rainy days backup.
| | | |
| --- | --- | --- |
| Model | MJ-EW800 | MJ-EW1200 |
| Gift box (mm) | 600*155*595 | 600*155*595 |
| QTY/CTN. | 2 | 2 |
| Carton G.W (KG) | 14.3 | 14.6 |
| Carton size(mm) | 610*330*610 | 610*330*610 |
Details of MJ-EW Solar Cell UFO Street Light
Patented
Unique UFO Design
Unique UFO appearance, no wiring, can be installed on a pole directly.
8 Degree slope design,  15% more charging efficiency improved, the solar panel is not easy to accumulate dust, it can be washed away by rainwater, easy to maintain.
IP65 Waterproof
Die-casting Aluminum Housing
One-piece die-cast aluminum material of lamp body, sturdy and durable, no rust, good heat dissipation.
The lamp base adopts a detachable "moveable" design, which saves the product packaging volume by 40% and greatly reduces transportation cost.
IP65 water-proof, all-weather resistant.
RGB 5054SMD
16Million Light Colors
Three kinds color temperatures in one light, cold white, warm white & 16million RGB colors. You can set any light color which you want by APP.
Lighting dance with the rhythm of music, to enhance the lighting atmosphere. Adopts 360° optical design, to meet 360° lighting needs.
32650
LiFePO4 Lithium Battery
MJ-EW Solar Cell UFO Street Light uses 32650 LiFePO4 batteries, high-capacity, low-attenuation, 2000 cycles service life.
Working temperature is between -20degrees to +60degrees.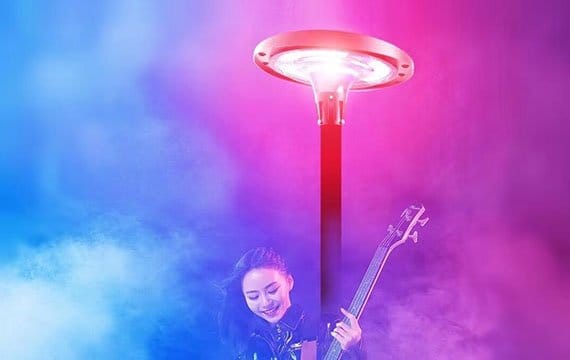 Bluetooth
Music Rhythm
Intelligent music rhythm function, compatible with Bluetooth devices.
Luminaire changes color and mode intelligently according to the musical rhythm, which can be widely used for Christmas and holiday decorations.
PWM
P-MOS Fast Charging
The solar controller simulates unique charging and discharging management technology with more efficiency.
For example, regular 6V/30W solar panel's peak charging current is 5A; MJ-EW UFO solar light uses 4V/30W solar panel with a peak charging current of 7.5A. The charging efficiency is improved by 50%.
Features of MJ-EW UFO Solar Street Light
POLY Solar Panel
16Million RGB Light Color
Musical Rhythm
LiFePO4 Lithium Battery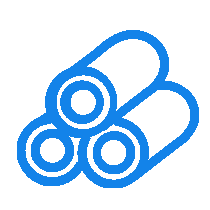 Die-casting Aluminum
APP Control & Remote Control
IP65 Waterproof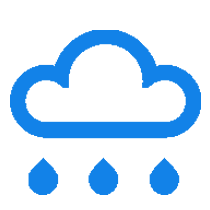 Rainy-days backup
Dusk to Dawn Auto
Photos of MJ-EW UFO Solar Street Light
How To Set MJ-EW Series UFO Solar Light?
How To Assemble Poles for MJ-EW Series Solar UFO Light?
Pole is optional.
Dimension of MJ-EW UFO Solar Street Lights
(2)
How to assemble MJ-EW Series UFO Solar Streeet Light?
MJ-EW800, MJ-EW1200
Explorer Warrior
16Million RGB with Musical Rhythm
3500K& 6500K& 16Million light color with Musical Rhythm. Bluetooth APP controlled.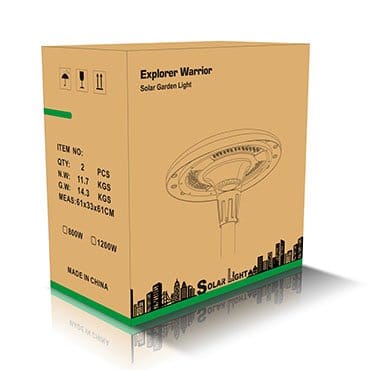 What is working time?
The lighting time is 12hours per day, dusk to dawn auto working, 2-3 rainy days backup.
What is diameter of pole?
What is the lifetime?
The battery lifetime is 4-5 years. After replacing battery, can continue to use.
What is the MOQ of customized color box?
What is production time?
Sample order is 3-5days, 20′ Container is 15days, 40′ Container is 20days.
Are poles included?
The poles are not included, it is optional.