Newskypower LED Solar Wall Lights
With the improvement in living standards, solar wall lights are becoming more and more popular. Because it is not only easy to install, but also energy-saving and safe. It is equipped with high efficient solar panel, high capacity lithium battery and high luminous efficiency LED light beads. IP65 waterproof. Fully automatic working. Infrared or radar intelligent body sensing. Multiple working modes are available. Suitable for the yard, garden, fence, gate, pathway, walkway, and outdoor areas.
Meet Different Applications
According to different applications, we provide different designs of solar wall lights with different functions. Include ABS solar wall light with motion sensor, Aluminum solar wall light with sensor, and large commercial solar wall light.
ABS Solar Wall Light with Sensor

Aluminum Solar Wall Light with Sensor

Commercial Solar Wall Light without Sensor
Feature of Solar Wall Light
Solar Powered
Super Brightness

Outdoor Weatherproof
Lithium Battery
High Capacity with Deep Cycle
Easy to Install
The solar wall lights market has exploded in recent years showing a rapid upward trend. They are very popular in both the residential and commercial markets. Because solar wall lights are easy to install and do not require wiring, can be installed in any outdoor environment and location, such as on walls, trees, and fences. It works automatically at dark and at dawn while saving energy with the human body sensor.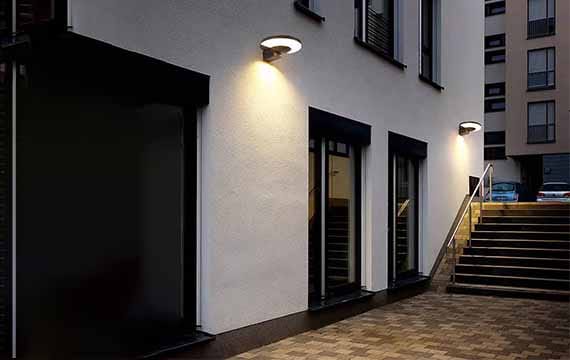 Long-lasting and Durable
Aluminum and die-cast aluminum material solar wall lights are strong, durable, rust-free, and can be used in any outdoor area. Meanwhile, the lights use monocrystalline silicon panels with a charging efficiency of more than 20% and a fast charging time of 6 hours. High-quality lithium-iron-phosphate battery with 2000 cycles, and the service life is more than 5 years.
Leading Manufacturer of Solar Wall Light in China
Newskypower is a professional outdoor solar wall light manufacturer in China, we are constantly upgrading and optimizing the functionality and design of our solar wall lights according to market demand. We have provided OEM labeling services to some famous brands. Our led solar wall lights are sold in many supermarkets, and our products are steadily ranked among the top sellers on e-commerce platforms.
FAQs
Can I make my own logo and packaging?
Yes, we provide OEM service.
Do you do drop-shipping?
We provide export and wholesale service, don't do drop-shipping.
Can your solar wall light be made into a utility power?
Yes, the large commercial solar wall lights can be AC utility powered.