Newskypower Solar Flood Lights
With the explosion of the solar flood light market in the past few years, Newskypower has developed several series of solar flood lights. This includes solar flood light with remote, solar flood light with camera, and solar flood light with motion sensor.
Solar flood lights use solar energy to provide bright and efficient lighting for outdoor use, the lamp head and the solar panel are separate, and the lamp head can be freely installed in various positions. It is not restricted by the direction of the sun. These led solar flood lights are an eco-friendly and cost-effective alternative to traditional AC electrical lights.
60/100/200/300/500/800W
POLY Solar Panel
32650 LiFePO4 Battery
Die-casting Aluminum Housing
Remote Control
Large Luminous Angle
RGB60/100/200/300/500/800W
POLY Solar Panel
32650 LiFePO4 Battery
Die-casting Aluminum Housing
16Million RGB with Music Rhythm
Remote Control & APP Control
100/200/300/400W
POLY Solar Panel
32650 LiFePO4 Battery
Die-casting Aluminum Housing
CCTV 1080P WIFI Camera
Remote Control & APP Control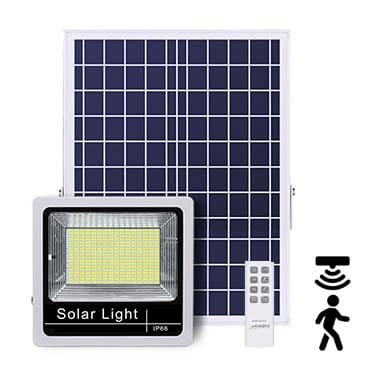 30/40/60/80/100/120W
POLY Solar Panel
32650 LiFePO4 Battery
Die-casting Aluminum Housing
Microwave Radar Motion Sensor
Remote Control
100/200/300W
POLY Solar Panel
32650 LiFePO4 Battery
PC+PVC Lamp Head
Outdoor & Indoor
Remote Control
Features of Newskypower Solar Flood Lights
High Efficiency Solar Panel
Super Brightness LED Beads
Die-cast Aluminum Body
32650 LiFePO4 Lithium Battery
Easy Installation

Dusk to Dawn Auto

IP67 Waterproofing
Remote Control
Wide Range of Applications
LED solar flood light is a great way to light up the home or outdoor living spaces such as pathways, walkways, plazas, shops, parking lots, billboards, etc. It can provide efficient lighting for security, making people safer during the night time.
Our solar flood lights are waterproof up to IP67 and can work under any rainstorm weather. Solar flood light is a DC low voltage power supply, safe without risk of electric shock.
Easy Installation
Quick assembly, only 4 expansion screws are required for installation and fixing. No additional wiring is required, and no technician guidance is required.
Our solar flood light also comes standard with a 5-meter connection cable, and the lamp head can be installed in any position according to different lighting needs, not restricted by the direction of sunlight.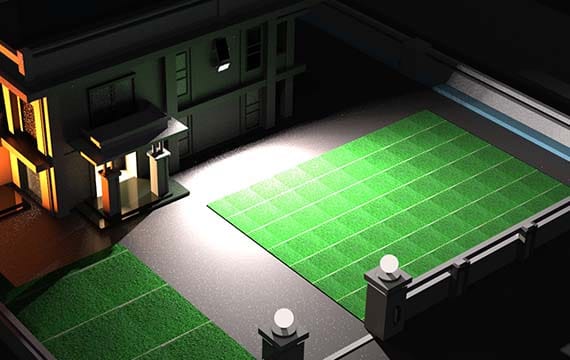 Wide Beaming Angle
Large Lighting Area
Unique light distribution design, 100*90 beaming angle, 20% larger illumination area than other's solar flood lights.
High Brightness
Selected high powered LED beads with high luminous efficiency, 3000K and 6500K color temperature are available. We have also developed RGB solar flood light, 16 million colors can be set via mobile app.
Sturdy and Durable
Thickened Die-cast Aluminum
The housing of the lamp head is made of thickened die-cast aluminum, compared with the plastic housing, it is more strong and more durable, not rusty, and can be used outdoors including in marine environments.
Tempered Glass or PC lampshade
The Lampshade panel is made of tempered glass, is sturdy and good light transmission. Not easy to break. High safety. Some models' lampshades are made of PC material, and with an optical lens, strong and unbreakable.
Intelligent Dimming
Energy Saving
5-stage intelligent power regulation. In different time periods, the brightness is different. In the second half of the night when there are fewer people, the brightness will be reduced, thus saving battery power.
The light will work from dusk to dawn automatically, with no manual on/off required. When night falls and the voltage of the solar panel is below the set voltage point, the light will automatically come on. When dawn comes and the voltage of the solar panel reaches the set voltage point, the light will automatically turn off.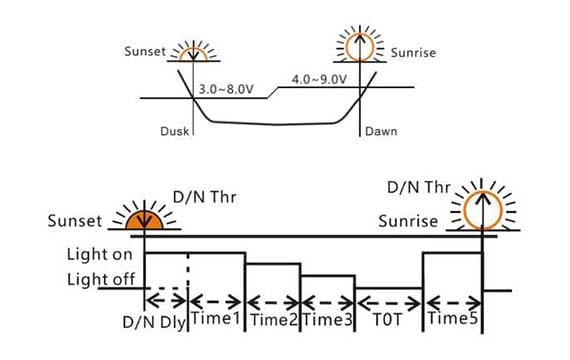 Security Camera (Optional)
Smart Monitoring
According to the needs of the market, we have also developed solar flood light with camera, which can connect the light to the network via WiFi, so users can monitor and operate remotely via cell phone. 1080P full-color high-definition video, Support up to 128G memory card, 30 days of video recording. We use the mature and stable TUYA intelligent APP system, which is compatible with more than 100 languages.
The product has a remote monitoring alarm function, when the monitoring area detects motion sensing, it will send an alarm alert to the user.
Powerful Factory of Solar Flood Lights -Newskypower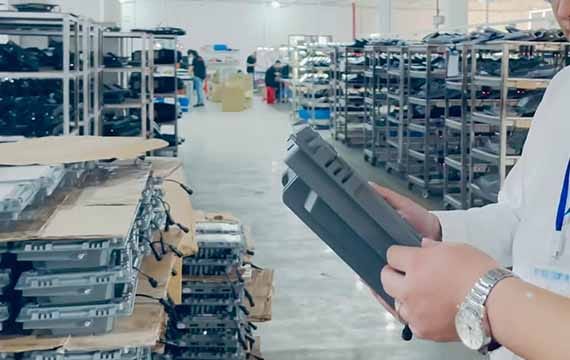 Newskypower is a leading manufacturer and supplier of solar flood lights in China, We insist on research and development according to the market trend to provide our customers with high quality and high technology solar flood lights, the products are exported to more than 100 countries and regions.
Solar lighting experience of over 15 years.
Extensive product range, one-stop purchasing.
Advanced technology and production facilities.
CE, ROHS Internation Certification approved.
OEM/ODM Service.
Product Quality is The Life of a Company
The self-developed aging rack system, intelligent detection and monitoring of light operating status.
Professional waterproof rating testing equipment to ensure a waterproof rating of IP67.
Solar Module Testing
Detect the voltage, current, and power of the solar panel by simulating sunlight to check if it is normal.
International Certifications
The solar flood lights have passed relevant international certifications, including CE, ROHS, IP67, etc.
Real Cases of Newskypower Solar Flood lights
Lighting for Basketball Courts
This is a basketball court lighting case. After the client provided the site drawings and lighting requirements, we provided a lighting design with 14 solar flood lights. All the solar flood lights are with battery backup, and dusk to dawn work automatically.
The brightness fully meets customer expectations. This photo is a lighting effect comparison of light off and on.
Lighting for Home
Solar flood lights are perfect for home use, they can be installed anywhere in the yard. In this case, the client was looking for the brightest solar flood light to light up his yard and gate.
After we learned about his lighting needs, we recommended a 100W solar flood light to the customer and we told him that he did not need a larger power model. The customer was very happy with the lighting effect after installation.
"There is a large market for solar flood lights in our country and I import a large number of them from China every year. Before working with NEWSKYPOWER, we encountered many difficulties, such as brightness, waterproofing, and battery quality issues. After testing and using NEWSKYPOWER's products, we decided to start promoting their products. Now we have been working together for 5 years and our market is getting bigger and bigger. Thanks to the NEWSKYPOWER team and we look forward to long-term cooperation! "

Mr. Pableto Narido @The Philippines
FAQs
Are you manufacturer of solar flood light?
Yes, we are a professional manufacturer of solar flood lights since 2008.
What is your delivery time of solar flood light?
Sample order: 3-5 days.
20FT Container: 15 days.
40FT Container: 20 days.
What is the cable length between solar panel and lamp head?
Can i get longer connection cables?
Yes, we provide 5 meters extension cables. The total cable length should not exceed 10 meters.
What is lifetime of solar flood light?
The service time is about 5 years.